May 5th Fish Fry Cancelled - Regretfully, we need to cancel our Friday, May 5th, Fish Fry because the refrigeration unit has broken down. We realize how everyone looks forward to these events, but it will just build up the anticipation when we resume in Fall. We will see you then and thank you for your wonderful support this past season!
Welcome to St. Anthony's Fish Fry!
A Feast & Frivolity - no better way to spend a Friday night!
Here's Our Fishy News for this Season!
Our Family-style fish fry is served the first Friday of each month, September 9, 2016 through May 5, 2017, with some exceptions. This year, we will also have 2 dates that will be carry-out service only, no dine-in service. Please see the schedule of dates below for the various dining options. Join us in Reichling Hall, in the school, from 4-7pm or until the nets are empty! COME EARLY!
2016-2017 Schedule
Dine-In & Carry-Out Carry-Out Only
September 9, 2016 March 10, 2017
October 7, 2016 March 24, 2017
November 4, 2016
December 2, 2016
January 6, 2017
February 3, 2017
March 3, 2017
April 7, 2017
May 5, 2017 (last Fish Fry of this season)
Dine-In Prices
Fish Fry (Adults) - $11.00
Children (ages 5-12 fish) - $6.00
Children (ages 5-12 hot dog) - $5.00 *Children 4 and under free
Take-Out Menu & Prices
(includes rye bread, coleslaw, choice of potato salad or fries, tartar sauce)
NO SUBSTITUTIONS PLEASE
16 Piece Bucket - $32.00
4 Piece Dinner - $10.00
A La Carte Menu: with bucket or dinner take out purchase only please.
1 extra piece of fish - $2.00
fries (1 serving) - $2.00
potato salad (16 oz.) - $4.00
coleslaw (16 oz.) - $4.00
tartar sauce (8 oz.) - $4.00
tartar sauce (2 oz.) - $1.00
Drinks
Coffee, 1 milk and water are included with your meal
Additional milk - $0.50
Soda - $1.00
Beer - $3.00
Wine Coolers - $2.00
Please meet our volunteer staff Coordinators and Supervisors:
Event Coordinator: Deb Hyde, dhyde@stanthony-parish.org
Volunteer Coordinator for High School Students and Adults: Mary Brzozowski, brzozowskim@archmil.org
Grades 5-8 Student Volunteer Coordinator: Mary Brzozowski, brzozowskim@archmil.org
Bakery Coordinator: Edwina Perlot (262) 251-2879
Wednesday AM Supervisor: Bernice Raebel (262) 251-5625
For volunteer opportunities or information on becoming a supervisor on Thursday or Friday morning shifts, contact Mary Brzozowski at (262) 251-5910, Ext. 710, brzozowskim@archmil.org OR click on the SignUpGenius button.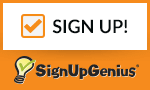 Bakery donations always accepted each fish fry Friday
from 7am-3pm at the front glass doors of school.
Please RSVP to Edwina Perlot.